ESG – A Disco Hip Hop Punk Fusion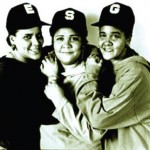 ESG (Emerald, Sapphire and Gold) are a band that emerged from the South Bronx, New York, U.S. in the early 1980′s. The band originally consisted of the Scroggins sisters, Renee (vocals), Valerie (drums), Deborah (bass) and Marie (congas, vocals) and friend Tito Libran (congas, vocals). A later incarnation of the band consisted of Marie (congas, vocals), Renee (guitar, vocals), Valerie Scroggins (drums), David Miles (guitar) and Leroy Glover (bass), Chistelle Scroggins (vocals) and Nicole Scroggins (bass). ESG's music is centered around complex polyrhythms, a funky bass and pop-flavored guitar. During their first incarnation, the group signed with 99 Records and issued a debut self-titled EP in 1981 that featured three live (recorded at Hurrah) and three studio songs, the latter produced by English post-punk producer Martin Hannett (Joy Division, etc.). 1982′s ESG Says Dance to the Beat of the Moody EP continued in a similar vein, as did their first full-length album, 1983′s Come Away with ESG. ESG disbanded shortly thereafter, but re-formed in the early '90s, heralding their comeback with a self-titled 1991 compilation of previously released material. The group's work had become popular among hip-hop artists searching for samples, with such acts as TLC, the Wu-Tang Clan, the Beastie Boys, Big Daddy Kane, Gang Starr, Junior Mafia, Tricky, Jay-Dee (J-Dilla) on his Donuts album, and indie rockers like Unrest and Liars. The group addressed this issue on the 1992 12″ EP Sample Credits Don't Pay Our Bills. The album, ESG Live!, was released in 1995 and featured both old and new material.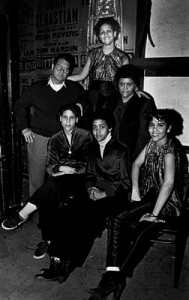 Some would say ESG are one of the most important bands in dance music. Ever! Coming from New York at the beginning of the 1980′s ESG found themselves at the meeting point of three revolutions in music – House, Hip-Hop and Punk. Combining all three elements with their associations with Larry Levan and The Paradise Garage, Factory Records in England and sampled by everyone from Public Enemy to Q-Tip. This compilation covers a period from 1980 to the early 1990′s. Essential! Which group has records in the top 50 all time classics of New York s Paradise Garage, The Gallery, The Warehouse, The Music Box and The Roxy ? Which group has been sampled by Public Enemy, Big Daddy Kane, 3rd Bass, LL Cool J, Marley Marl and Doug E. Fresh? Which group has played with The Clash, A Certain Ratio, Public Image, Liquid Liquid and Gang of Four? Which group played the opening night of Manchester's Hacienda and the closing night of New York's Paradise Garage with Larry Levan? ESG! Soul Jazz Records are releasing this retrospective of ESG. The album features all their classic tracks along side some rare recordings. The story of ESG is one that gives them a place in three different musical histories – House music, Hip-Hop and Punk. A unique position that few other bands can claim. Their first single contained the all-time dancefloor classics Moody and UFO which placed them at the root of House and Hip-Hop respectively. Their first record was produced by legendary producer Martin Hannett and released on Factory Records, reflecting the beginning of a point in time where punk groups in England such as New Order and A Certain Ratio were beginning to become interested in Black American dance music. ESG are based around a group of sisters, Renee, Deborah, Valerie and Marie. The sparse raw funk sound that they created is unique and their music , reputation and associations has made them one of the cult bands of all time and this release intends to re-present them giving them their proper place in history. ESG were involved with 99 Records in the US (as were Liquid Liquid). Owned by ESG s unofficial manager/producer Ed Bahlman, 99 Records spearheaded a new wave in US punk/ dance groups that became known as the No Wave. ESG (and 99 Records) also lost out in many similar cases – ESG s sparse minimal bass and drum sound made them one of the most sampled artists around (in 1993 they wrote a track Sample Credits Don t Pay our Bills ). ESG were immersed in both the New York dance club scene and in the meeting of punk and dance culture. They played all the New York dance clubs such as Paradise Garage, Xenon, Danceteria as well as playing with many punk groups.. (They once played with The Clash and Grandmaster Flash on the same bill!).
Hipology