Give The Drummer Some
Thanks to Soulmakossa for this list of funky drummers. I prob would have added a few of my faves "Harvey Mason, Uriel Jones, Billy Cobham and Bernard Purdie but these guys are standard issue to every beat collector. Ok so basically if you are digging through second hand music stores and you read any of these names in the credit lines BAG IT.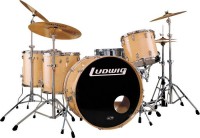 BUDDY MILES
Band: Buddy Miles Express, Buddy Miles, Jimi Hendrix
Must hear grooves: "Train", "Them Changes", "Memphis Train", "Midnight Rider", "Take It Off Him and Put It On Me", "Joe Tex", "Life Is What You Make It (Part 1)" (Buddy Miles); "Who Knows", "Them Changes", "Message to Love", "Machine Gun" (Jimi Hendrix)
ESCO CROMER
Band: Black Heat
Must Hear Grooves: "The Jungle", "Chicken Heads", "You Should Have Listened", "No Time to Burn"
BILL CURTIS
Band: The Fatback Band
Must Hear Grooves: "Njia Walk (Street Walk)", "Fatbackin'", "Wicky Wacky", "Let the Drums Speak", "Put the Funk on You", "Do the Bus Stop", "I'm a Changed Man"
GREG ERRICO
Band: Sly & The Family Stone (1967-1971)
Must Hear Grooves: "Dance to the Music", "Color Me True", "Sing a Simple Song", "You Can Make It If You Try", "Thank You (Falettin Me Be Mice Elf Egin)", "Thank You for Talking to Me Africa"
RAMON 'TIKI' FULWOOD
Band: Funkadelic, Parliament (1968-1975)
Must Hear Grooves: "I Got a Thing", "Funky Dollar Bill", "I Wanna Know If It's Good to You Baby", "Super Stupid", "Wars of Armageddon", "Nappy Dugout", "Red Hot Mama/Vital Juices"
WILLIE HALL
Band: The Bar-Kays, Isaac Hayes, Stax House Band
Must Hear Grooves: "In the Hole", "Street Walker", "Son of Shaft", "Smiling, Styling and Profiling" (The Bar-Kays; "Hyperbolicsyllabicesquedalymistic" (Isaac Hayes)
ROGER HAWKINS
Band: Muscle Shoals House Band
Must Hear Grooves: "This World", "I'll Take You There", "If You're Ready (Come Go With Me)" (The Staple Singers); "Snatching It Back", "Back Door Santa", "Too Weak to Fight" (Clarence Carter); "Heart on a String", "Love Chain", "Evidence" (Candi Staton)
AL JACKSON JR.
Band: Booker T. & The M.G.'s, Stax House Band
Must Hear Grooves: "Green Onions", "Hip Hug Her", "Booker-Loo", "Red Beans and Rice", "Melting Pot" (Booker T. & The M.G.'s); "Tramp" (Otis Redding), "Hold On, I'm Coming", "Soul Man" (Sam & Dave) , "Knock on Wood" (Eddie Floyd), "Cold Feet" (Albert King)
RALPH JOHNSON
Band: Earth, Wind & Fire (1972-)
Must Hear Grooves: "Time Is On Your Side", "Build Your Nest", "Power", "Mighty Mighty", "Tee Nine Chee Bit", "Shining Star", "Medley: Africano/Power (Live)"
QUINTON JOSEPH
Band: Brunswick House Band, Curtis Mayfield
Must Hear Grooves: "Can I Forget You", "Come and Get This Ring" (Tyrone Davis); "Why Don't You Do Your Thing" (Jackie Wilson); "Sugar Cane" (The Artistics); "Superfly", "Pusherman", "No Thing on Me (Cocaine Song)", "Billy Jack" (Curtis Mayfield)
Photo courtesy of my man purpleoverdose Many thanks!
MANNY KELLOUGH
Band: Graham Central Station, Billy Preston
Must Hear Grooves: "The Jam", "It's Alright" (GCS); "Will It Go Round In Circles", "Ain't That Nuttin'", "Nothin' From Nothin'" (Billy Preston)
JOSEPH 'ZIGABOO' MODELISTE
Band: The Meters
Must Hear Grooves: "Cissy Strut", "Sophisticated Cissy", "Here Come the Meter Man", "Look-A Py Py", "Pungee", Chicken Strut", "Cabbage Alley", "Hey Pocky Way", "People Say", "Jungle Man" (The Meters); "Yes We Can", "Sneakin' Sally Through the Alley" (Lee Dorsey)
GEORGE MORELAND
Band: Wilson Pickett (1967-1969), The Isley Brothers (1969-1974), Midnight Movers
Must Hear Grooves: "It's Your Thing", "I Know Who You Been Socking It To", "I Turned You On", "Was It Good to You", "Get Into Something", "If He Can You Can", "Keep On Doin'"
WILLIE 'WILD' SPARKS
Band: Graham Central Station (1973-1974)
Must Hear Grooves: "Ain't No Fun to Me", "Hair", "Can You Handle It", "Release Yourself"
JOHN 'JABO' STARKS
Band: James Brown, The J.B.'s (1969-1975)
Must Hear Grooves: "Get Up I Feel Like Being a Sex Machine", "Talkin' Loud and Sayin' Nothing", "Soul Power", "There It Is", "Get on the Good Foot", "The Payback", "Stone to the Bone", "Mind Power", "Papa Don't Take No Mess"
CLYDE STUBBLEFIELD
Band: James Brown, The J.B.'s (1966-1971)
Must Hear Grooves: "I Can't Stand Myself (When You Touch Me)", "Cold Sweat", "Funky Drummer", "Mother Popcorn", "Super Bad", "Get Up, Get Into It, Get Involved", "Give It Up Or Turn It Loose (1970 version)"
ZACHARY SLATER
Band: The Politicians, Hot Wax/Invictus House Band
Must Hear Grooves: "Free Your Mind", "The World We Live In", "Church", "Funky Toes", "Close Your Big Mouth" (The Politicians); "Feelin' Alright" (Chairmen of the Board); "If I Could See the Light in the Window" (100 Proof (Aged in Soul)
GREG WEBSTER
Band: Ohio Players (1968-1973)
Must Hear Grooves: "Pain", "Players Balling (Players Doing Their Own Thing)", "Funky Worm", "Pleasure", "Paint Me", "Ecstasy", "Black Cat"
GEORGE 'FUNKY' WHITE
Band: Kool & The Gang
Must Hear Grooves: "Kool & The Gang", "Raw Hamburger", "Pneumonia", "Music Is the Message", "Funky Stuff", "Jungle Boogie", "Spirit of the Boogie", "Jungle Jazz", "Love and Understanding"
MAURICE WHITE
Band: Earth, Wind & Fire
Must Hear Grooves: "Help Somebody", "Fan the Fire", "C'mon Children", "Bad Tune", "Energy", "I Can Feel It In My Bones"
TERRELL WOOD
Band: B.T. Express
Must Hear Grooves: "Do It 'Til You're Satisfied", "Express", "If It Don't Turn You On (You Better Leave It Alone)", "Peace Pipe"
source: http://rateyourmusic.com/~soulmakossa