Graffiti Chocolate Bars
Posted by Scott Goldstein, March 25th, 2007
Urban sensibilities and New York City flavor are the key ingredients to the early success of Alison Nelson's Chocolate Bar, a purveyor of premium chocolates and gourmet sweets located in the West Village. Since starting her business in 2002, Nelson has brought a fresh approach to the stuffy world of premium chocolates by combining confectionary delights with uniquely urban sights – a reflection of her irreverent nature and her love of the arts and New York City. Her latest creation, Graffiti Bars, promises "Great Chocolate, Pure Street" and includes ten new flavors adorned in wrappers designed by a group of legendary New York City graffiti artists such as Lady Pink, Crash, Spar One, and Blade. Nelson will donate a significant portion of proceeds to a non-profit group selected by the artists – the All Stars Project, a performing arts organization for underprivileged youth that operates in Harlem, Coney Island, Bedford-Stuyvesant and the South Bronx.
"It's a touchy subject because a lot of people feel that there's been this commercialization of graffiti and felt that partaking in this kind of project would just be aiding that. "
Format: What inspired you to start a chocolate company?
Alison Nelson: I grew up in New York and I studied to be a writer. I spent a lot of years working in coffee shops and bakeries and bars and restaurants – anything in the food service industry. I was trying to figure out what I really wanted to do with my life, and I knew I loved chocolate. Not many people don't love chocolate, but I love chocolate and coffee a lot.
At the time my biggest problem was that the chocolate industry seemed very intimidating. All the high-end chocolate shops were really clean and French and upscale, and any time I went in one, I thought that they knew I only had a couple bucks in my pocket. I wanted to find a way to bring it to the level of neighborhood coffee shop or bakery feel, so that when people walk into the store it feels like home.
Format: You bring together chocolate and art in an interesting way; the Graffiti Bars aren't your first venture working with artists.
Alison: The idea of just producing a chocolate bar seemed really boring to me. I had a lot of friends, some of whom did graffiti, some of whom did fine art, and I thought, it'd be really fun to kind of cross-breed the two things. So when somebody's coming and looking for a salty pretzel bar, they're getting a salty pretzel bar that has a wrapper designed by somebody that maybe they never heard of and, all of a sudden, they go "Hey, who's Tim Biskup? Why is this guy Gary Baseman making a chocolate bar label?" And then the same thing – people who love Gary Baseman are going, "Wait, he designed the label for a chocolate bar?" and then coming into our store and learning about us for the first time. It seemed like it was an interesting thing to do, making it more fun.
click to read full article: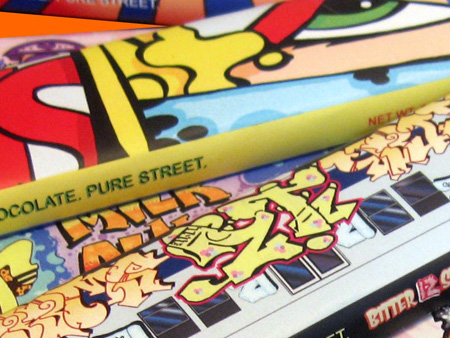 Sourced with thanks to:  www.formatmag.com