Keith Mansfield funky ethics
Keith Mansfield – KPM Library Music
Keith Mansfield – KPM Library Music
Funky work ethic
source: thebeatexcavation.com
Words: Welson Creep
During the '60s, '70s and '80s Keith Mansfield established himself as one of Britain's most gifted and prolific composers of library music. Today, thanks to the attentions of the current crop of film and music makers, his work for the KPM label is more in demand than ever.
Library music has always been an enticing domain full of mystique – limited pressings, top-notch players, great recordings, secret guests etc. The fact that library LPs have never been commercially available makes them all the more desirable.
There are many music libraries around the world but several of the top libraries are based in London. 

The '60s and'70s was a highly productive time for the library music scene in London, with a network of funky musicians churning out work at an alarming rate. One of the most famous companies from this era is KPM (Keith Prowse Maurice) – a leading source of production music for over 60 years and a benchmark within the industry for high quality recordings.
In 1964, a young Keith Mansfield went to KPM's arranging department and worked there initially as a copyist. The job opportunity came through a trumpeter named Alan Moorhouse, who he played a gig with every Saturday night in Clapham. Alan was a well respected freelance arranger at KPM – he was famous for writing Lulu's hit 'Boom Bang-a-Bang' (something he and Keith would laugh about), and later became the conductor for the BBC orchestra.
Alan was an early mentor to Keith, allowing him to 'ghost' on some of his projects. 'Ghosting' on a track meant that if Alan had too much work on he would 'farm out' the job to Keith. The piece would have to sound like Alan, and Alan's name would be on the record. This might sound unfair but at the time it was a common practice, and in Keith's eyes, all part of 'being professional'.
During this period Robin Phillips was running the company; a young man with a 'terrible stutter', who in the space of three years helped turn KPM into a world famous music library. Robin trusted his own instincts and if he thought somebody had talent, he would give them a chance. He saw potential in Keith and gave him the opportunity to record an album of jazzed-up Christmas carols in a grotty, run-down studio. The album was a big success in the States so within six months he was asked to record a Nursery Rhymes album in the same style. After the success of this record Keith was given his biggest and most exciting challenge to date:
"Robin went from giving me small group Christmas carols, to doing my own compositions, eight titles, recording them in Germany, with a big orchestra! So I go from writing for a six-piece to writing for a thirty-five piece orchestra!"
At the time there was a union rule that wouldn't allow library music to be recorded in the UK. The unions were concerned that the music libraries would make many professional musicians redundant, so the musicians would go abroad to record most of the big arrangements. Sometimes, however, KPM would 'cheat a little bit' and secretly record some sessions in the KPM studios back in London.
"They always used to have a scam, they used to have a letter to say what the music was, in case the union rep came there and said: you're doing library music! Robin always had this letter there from Pathe/Marconi, saying it was to do this specific music for their film in France."
As Keith's career went from strength to strength his workload increased dramatically. Professionalism was the key – if you weren't reliable and didn't deliver, that was it, over. It was essential that he kept a clear head,
"You can't drink and write. When you're averaging, as I was, three arrangements a day at one stage – drunk? I wouldn't have got through one! You know, sometimes you drink at the end of a project. I'd get laced. I did get sent home once with a note. The guy drove me home, rang the doorbell, and left a note on me (laughs). But I couldn't drink and write."
By the time Keith reached 28, the intense pressure of working as a commercial arranger almost got the better of him,
"You know, I used to average four hours in bed a night! As I said, I used to do fifteen arrangements a week. There was one week when I did, I think it was 27 arrangements! All for an over-thirty piece orchestra. I was in the studio nine times in that week, from Sunday to Sunday. But I was a head-case at the end of it. I was so drained! So I nearly had a breakdown."
The output and quality of Keith's music during this period is pretty phenomenal. Working every hour under the sun evidently had its drawbacks, but the fact that he was creating new arrangements day in day out, under intense pressure, meant that he developed masterful writing skills. He was at the top of his game with arrangement ideas whirling around his head every minute of the day. It was about this time that Keith penned the classic theme tune to 'Grandstand', one of the BBC's longest running sports shows – which only took one morning to write!
"I'm driving up Haymarket, just had this idea 'bopadum bom bumbadumbom', just that bit, so I stop at the traffic lights, write that down, get into the office 'bidumbadum' etc. Why I did that I've no idea. I didn't have time to second-guess myself. That's what I heard, so that's what I wrote. Then the piece goes into big band style. If I'd had the chance, if I'd had time, I'd have said: Don't be silly Keith, you can't go from pop music to big band music, it doesn't make sense! I was going from pop triads into a big band chord. The only reason I did that was really because the line-up I had on my score… I had four trumpets, four trombones, saxophone's doubling woodwind, and two French horns or something. So I'm sitting there, and I'm thinking I've got a big band sitting there and I'm only writing pop music, I'd better write for them, so I just literally went into big band mode, which I call Las Vegas-style writing, didn't think twice about it and went on to the next piece of music. So I wrote and arranged it in the same day, and then went on and I might have gone to another piece of music that night but certainly I started another piece the next morning. These days when I have to do an arrangement of 'Grandstand' it takes me about a week! (laughs)"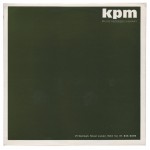 'Funky Fanfare is probably one of Keith's most famous library compositions from this era, and yet another product of his extremely heavy schedule and ability to write under pressure. The original, entitled 'Soul Thing' was recorded in the UK during a session with Decca. Keith was called in to arrange an A-side and write a B-side in one day. The deal was that the profits from the B-side would be split equally with the producer (even though he wasn't involved in the writing).
"Monday morning I get up (claps) I've got to write a B-side! In fact I didn't panic. The one thing I knew was: whatever idea I come up with, that's what I'm going to write. I'm not going to start thinking, is this what they want? I put a record on, maybe Junior Walker, just to get me in the mood for the kind of groove I'm going in. Musically, I went all around the place…you see, I didn't even think about it because it didn't matter, it was a B-side, nobody was going to say, you can't do that! So I did it… I got to the studio in the afternoon…I'm thinking, why am I giving the producer half of the song when I didn't even want to do the session in the first place? So I went in, I said, look, I've got some bad news, I didn't have time to write a new piece of music, I've had to use a piece of music I wrote for KPM. So, that was it… we recorded it. What happens next? It gets turned over, becomes the A-side! So instead of being the B-side, it's now the A-side, and it's called 'Soul Thing'. A week later I go to Brussels, and I now record it again in Brussels, and it's now called Funky Fanfare."
'Funky Fanfare' was released by KPM library and distributed worldwide. It was picked up by the National Screen Service and used in cinemas throughout America and Canada in the late 1960s where it was used to underscore presentation cards shown before the film, including the 'feature presentation' and the 'previews of coming attractions'. As a result, the composition became imprinted on the consciousness of a generation. Quentin Tarantino featured these sequences prominently in his films Kill Bill and Grindhouse.
Hip-hop producer Danger Mouse sampled 'Funky Fanfare' on the track 'Old School' which was featured on the Dangerdoom LP (a collaboration with MF Doom).
In fact, Danger Mouse has sampled Keith's music four times, maybe more. The compositions he used ('Funky Fanfare', 'Junior Jet Set', 'Mono Ski' and 'Morning Broadway') are all from the KPM archives.
Unlike some musicians from his generation, Keith doesn't have a problem with hip-hop or sampling. In some ways you could say it's not dissimilar to 1960s advertising executives chopping his compositions up to fit adverts or TV programs – all part of the business and all part of 'being pro'. So maybe this has something to do with his openness and ability to view sampling as a positive thing.
"Chop around however you want! That's what it's there for! That's what it was designed for…I'm several generations away from the hip- hop / sampling guys, but I'm delighted when they choose my music because they give a whole new life to it. I always find it interesting to see how they use it, and how they shape the music to serve their own needs."
It feels really special to be sitting having coffee with a man who has made such a large and significant contribution to music. At 70, Keith is great company – still bubbling with enthusiasm and passion for composing. He is still kept awake at night because, as he puts it, 'music just won't leave you alone'. In a beautiful twist, Keith explains that it is in fact Danger Mouse who has made it possible for him to pursue his forthcoming projects.
"I'm very grateful to Danger Mouse/Gnarls Barkley for sampling my music, because the success of these tracks is enabling me to undertake a couple of projects which are very personal to me, and has given me complete creative freedom. The projects are a celebration of my 50 years in music. Some of the recordings will be my own compositions and the others will be my arrangements of songs that have some special meaning to me."
It's not hard to see why Keith has stayed in the music business so long – the consummate professional with impeccable manners – a true English gent from London's swinging'60s.
credits to: Keith Mansfield, Jez (Shook Mag), Mark Watts, Sandra Borszcz, Veris (for the KPMs), Meranda, Dan Niles & Dayna.