Minnie Riperton's Adventures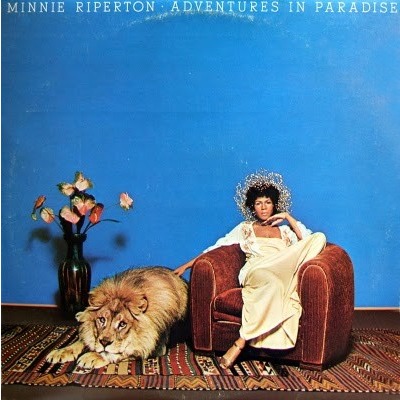 For sure Hipology is no just straight Hip Hop talk I also wanna share some of my favorite artist, albums and sample flips in this category (Sample Classic). At the same time these     records "possibly" wouldn't be in my collection if it wasn't for Hip Hop.
Adventures in Paradise is the third studio album by Minnie Riperton, produced by Stewart Levine with music by The Crusaders. Joe Sample co-wrote the title song "Adventures in Paradise".  Of course the track most known and relevant to the Hip Hop fan is "Inside My Love". The album was a modest success, but didn't match the success of Perfect Angel. After Lovin' You and Perfect Angel finished their chart run, Epic wanted a follow-up disc, and fast. With previous co-producer Stevie Wonder busy recording his Songs in the Key of Life (which Minnie would also turn up on singing backup on "Ordinary Pain"), Minnie and husband Richard Rudolph hired Stewart Levine to co-produce her next album. More songs came from the Riperton/Rudolph camp as well as collaborations with Jazz Crusader Joe Sample and songwriter Leon Ware (who was enjoying a hot streak thanks to his work on Marvin Gaye's album I Want You). Guitarist Larry Carlton was brought in as an arranger. The result, Adventures In Paradise, took on a mellow soul-jazz tone.
Tha album was a standard recording but available in two formats: quadraphonic and stereo. Epic Records anticipated a soul funky sequel, using Family Stone and Tower Power horn section, which would have been released in November 1975. However, the sessions were never released due to legal issues.
Hipology.