SP-1200 The Art & The Science
The first book ever written for the inimitable SP-1200, hip-hop's most iconic drum machine/sampler.
If you aren't familiar with the E-Mu SP-1200 you should probably go ahead and quit making beats and get another job. Everyone from Pete Rock to Ski Beats used the SP-1200 at some point in their careers to knock out bangin beats. This now vintage drum machine (originally released in 1987) is still widely used by producers, artists, and sound designers. The SP-1200 features 12-Bit Analog pre-amp circuitry that make its drums uniquely warm and fat! A well cared for E-Mu SP-1200 can fetch upwards of $2,000 dollars on eBay and is a highly sought after addition for any studio. The Official SP-1200 Book is essentially an SP-1200 Bible packed with interviews, techniques, and tweaks for SP-1200 lovers all over the world. The publishers even went to the extent of tracking down the original engineers from E-Mu who helped create the drum machine. If you are slightly interested in vintage drum machines or samplers, this is a MUST HAVE READ!
EXCLUSIVE INTERVIEWS
BUCKWILD, DELA, DJ I-CUE, DJ JAZZY JEFF, DJ JOC MAX, DJ RODDY ROD, DJ SPINNA, E-SWIFT, EASY MO BEE, GENSU DEAN, GRAP LUVA*, IMHOTEP, INSIGHT, J.FORCE, J-ZONE, JAMEY STAUB**, JEL, J-RO, KDEF, KENNY PARKER, LEWIS PARKER, LORD FINESSE, MAC McCRAW, NEEDLE DRIFTERZ, NICK WIZ, SHOWBIZ, SKI BEATZ, TODD TERRY and more. *PeteRock's brother • **Pete Rock's sound engineer
Author: PBody, Interview director: KicDrum Products, Format 20x20cm, 270 pages, Grey Edition, B&W content, ISBN: 978-295354101-4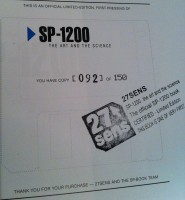 source: sp1200-thebook.com