Spectrum City – (Early Public Enemy)
 Their early history is great; Hank and Keith Boxley (who changed their surname to Shocklee) started Spectrum City in the mid 70s as a mobile DJing unit in Roosevelt, Long Island, and a lot of the energy of the emerging Long Island hip hop scene emanated from their shows. By 1979 they had recruited another DJ, Norman 'Mellow Dee' Rogers, but they knew they needed an MC. Meanwhile, Carlton Ridenhour (aka Chuckie Dee) had been writing rhymes and performing at open mic nights at the Adelphi arts college where he was studying graphic design. Ridenhour became one of the most successful party MCs in the area, and when Hank Shocklee heard Chuckie Dee on the mic he realised that he was the MC they were looking for.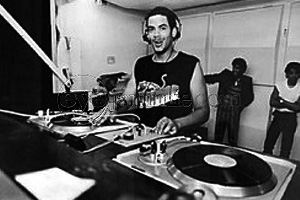 Spectrum City « Those City Nights.
source: with thanks to Manny Z @ citinite.wordpress.com