Synthetic Substitution – Melvin Bliss Doc
The Beat lives on…
Real cool insight into one of my fave breakbeats. check out both clips. you dig.
Synthetic Substitution (1973) was sampled in over 300 records inc:
Ego Trippin' by Ultramagnetic MC's (1986)
Saturday Night by Schoolly D (1986)
Chillin by Audio Two (1986)
Miuzi Weighs a Ton by Public Enemy (1987)
Holy War (Live) by Divine Force (1987)
Somethin' Funky by Big Daddy Kane (1987)
Nitro by T La Rock (1987)
Don't Believe the Hype by Public Enemy (1988)
Funky Dividends by Three Times Dope (1988)
Just Rhymin' With Biz by Big Daddy Kane feat. Biz Markie (1988)
All the Way Live by Captain G. Whiz (1988)
Sirocalot by Sirocalot (1988)
Cool V's Tribute to Scratching by Biz Markie (1988)
Watch Me Now by Ultramagnetic MC's (1988)
On Fire (Remix) by Tone Loc (1988)
Rock the Boat by B.C. (1988)
Because I'm a Pro by M.D.S. Production (1988)
This Is How It Should Be Done by Von Love (1988)
Versatile Extension (Versatility Remix) by Supreme NYborn (1988)
Tall, Dark and Handsome by Tall Dark & Handsome (1988)
This Is the "B" Side (Tony D Mix) by Choice M.C.'s (1988)
Potholes in My Lawn by De La Soul (1989)
Mind Blowin' by The D.O.C. (1989)
Jazzy's Groove by DJ Jazzy Jeff & the Fresh Prince (1989)
Black to the Future by Def Jef (1989)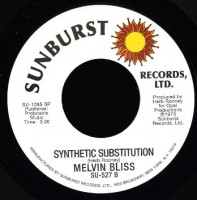 More info check out whosampled.com
The Melvin Bliss Documentary has officially been released and right now is available at Big City Records in Manhattan.
film by Earl Holder
Peripheral Enterprises, LLC copyright 2012
hipology