Team Double Goose – Paris
Doublegoose-Jacket: Interview by The DopePosePosse

---
All New York BBoys wore them back in the day.
Why? – Because Goose down is the warmest jacket ever and you'll feel as strong as a bodybuilder. 🙂
Now you can buy them again ? – There are people they produce BRAND NEW DOUBLEGOOSES ? – Yessir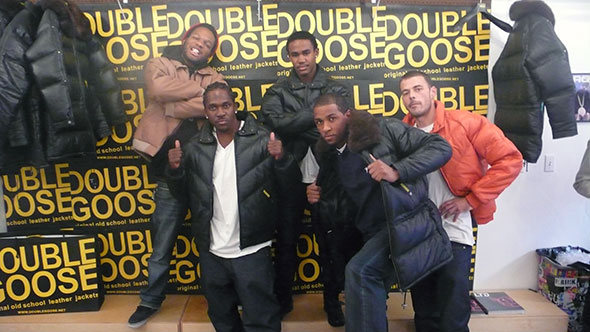 ———————————————————–
INTERVIEW: TEAM DOUBLE GOOSE – PARIS
———————————————————–
1. Please, introduce yourself!
Team Double Goose : Manu, Julien & Thomas. We're from Paris, actually from the same neighborhood (North East). So we have the same background and love for street cultures. As we're are in our mid-30's, we saw the hip hop movement emerge in Paris in the early 80's we all tried to spin on our heads, wrote bad rap lines or painted the walls with more or less success… But we were part of it 100% and were surrounded by fucking great writers, MC's or dancers.
2. where and when did you first see a goose jacket?
As fashion was always a big part of hip hop culture, we followed the trends and got immediately shocked by the beauty of the Double Goose jacket that we saw around 84-85 on Rakim (Eric B. & Rakim "Move the Crowd") or Run DMC ("Raising Hell" album cover, Glen E. Friedman pictures, "Tougher than Leather" movie by Rick Rubin, written by Spike Lee!). We saw the first jackets in Paris as people were coming back from New York to sell them here and we could buy some in 91. It was hype at the time and NTM, the french leading rap group, was wearin' them on their first album cover "Authentik".
3. what makes the goose jacket look so good?
What makes the Double Goose Jacket look so good is the "secret formula", the technical complexity of the jacket itself, it's the goose down that gives the puffa effect and "muscle"! When you're wearing it, you feel strong and protected as if you were wearing a bullet proof vest.
4. how should a goose jacket be worn?
In our opinion, the jacket should be worn quite "tight", embrace the body. But some people want to wear them a little oversized. It really depends on how YOU like to wear it. Nowadays, we sell some to people who are 60 years old and who consider our products as classy winter jacket with a fur collar. And they actually look good!
5. what makes a pose dope?
Style and attitude !
6. what is your favorite pose?
The "finger in the air" pose, know what i mean? lol
7. what does your doublegoose store offer?
For now, we have 5 models :
– the V shaped short jacket
– the V shaped long jacket
– the "Classic" short jacket
– the "Classic" long jacket
– the sleeveless jacket
We're developping other model this winter (some of them actually existed back in the days) :
– Triple Fat Goose with hoodie
– Flight Jacket
– a women version of the long jacket
– a sleeveless goose down jacket
The price is more or less 500 euros for a short one, 550 euros for the long one and 190 euros for the sleeveless jacket we also make tailor made jacket with crazy colors on demand, but it could be long and it's more expensive (50 Cent's goose : croco goose with chinchilla fur!!! (just kiddin' but we could do it)
if you want some info, check: http://www.doublegoose.net
source: The DopePosePosse thank you.