Visioneers – Hipology (album review & listening)
Hipology | Old To The New – Ryan Proctor's Beats, Rhymes & Hip-Hop Nostalgia.
Visioneers Album featured on AOL Music Listening Party
Visioneers – "Hipology"
(BBE/Omniverse)
Looking at the cover of the latest project from multi-talented London-based producer Marc Mac you'll see a huge amount of visual references squeezed into a colourful collage. Afrika Bambaataa. Stax Records. J Dilla. Chopper bikes. Spike Lee's "Do The Right Thing". Goose jackets. And so the list continues.
According to Mac, "Hipology" is more than just the catchy title of this new Visioneers album, it's also a "montage of elements, events, music and fashion that make up an individual's personal interpretation of Hip-Hop culture", all those moments throughout our personal history that make us living, breathing cultural scrapbooks each with our own stories to tell about how Hip-Hop has influenced different facets of our lives.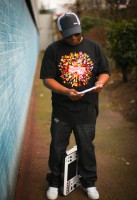 This release is Marc Mac's acknowledgement of the underlying role Hip-Hop has played, not just in the days of his 80s youth, but also throughout his musical career, even when exploring other genres such as drum & bass as one-half of the award-winning 4hero duo. But that said, that doesn't mean that "Hipology" is a straight-forward Hip-Hop album in the typical beats-and-rhymes sense. Instead, Mac uses this opportunity to craft a number of instrumentals that draw on the influences that helped Hip-Hop's founding fathers lay the musical blueprint of the culture, from breakbeats to other sounds such as jazz and Afro-Latin funk.
Opening with the short intro "Dial In", a flashback to early-80s NY Hip-Hop radio, the sense of nostalgia continues on the mellow walk down memory lane "Back In Time" featuring emcees Baron and TRAC. Weaving their rhymes over a soulful blend of live drums, guitars and horns, the duo reminisce on the days of Grandmaster Flash & The Furious Five, Saturday morning cartoons and having to be inside the house before it got dark, admitting how as adults now dealing with the pressures of daily life it'd be "kinda nice to have a slice of innocence again."
The sparkling jazz funk of "Ice Cream On My Kicks" evokes thoughts of laid-back, sun-splashed days with its combination of subtle percussion and old-school keyboards, whilst the aptly-titled "Shine" features New York's John Robinson dropping positive lyrical vibrations and pledging "loyal allegiance to this divine culture" over an organic, piano-led sonic backdrop.
Taking it back to the days when the likes of Kool Herc and Bam were digging in the crates at Bronx block parties, Mac and his crew of musicians do an impeccable job of recreating Johnny Pate's 70s classic "Shaft In Africa (Addis)" before tackling the Incredible Bongo Band's original b-boy anthem "Apache", with the punchy "Battle Dub" version staying faithful to the arrangement of the timeless original whilst adding a little extra twist here and there.
Canada's Notes To Self detail their experiences of artistic struggle on the brilliant "Oil & Water", the last of the album's three vocal cuts, whilst the relentlessly funky "Jungle Green Outlines" sounds like a lost track from a classic 70s blaxploitation soundtrack album, with its guitar licks, sharp horn stabs and slick bassline conjuring up dramatic visions of car chases,  smooth-talking players and blown-out afros.
An exciting and unpredictable journey, "Hipology" finds Mac succeeding in his mission to pull together his Hip-Hop-related influences into a superbly-executed display of musicianship that mixes old-school sounds with a new-school approach.
And the beat goes on…
Ryan Proctor
shout and thanks to Ryan at: oldtothenew.wordpress.com
hipology.