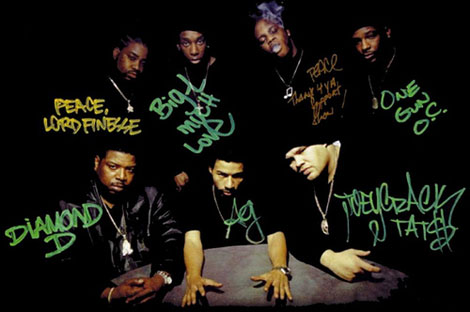 D.I.T.C. Leaders Of The True School
Ultra's "Ego Trippin" and JVC Force's "Strong Island" were prob the 1st records that made me wanna sell my TR606 and collect records but the crew that inspired my 1st beat diggin' trip to NY was D.I.T.C. Lord Finesse's "Funky Technician" and Showbiz & A.G.'s "Runaway Slaves" were on rewind for about 3 years. Throught this 'Hipology' blogspot I'm gonna trace all the things that make up my own personal world of Hip Hop, my own Hipology collage of fashion, music, places & spaces… but I'm pretty sure most cats will have a clip from D.I.T.C in thier own Hipology. For those that don't know, don't remember or just wanna reminisce here's somn' about D.I.T.C.
D.I.T.C. (Diggin' In The Crates)
Members
(Acronym: Diggin' In The Crates)
Fat Joe (A.K.A. Fat Joe Da Gangsta & Joey Crack) (Born Joe Cartagena, August 19, 1972 in The Bronx, NY)
Big L (Born Lamont Coleman, May 30, 1974 in Harlem, NY – Died February 15, 1999 in Harlem, NY (Shot))
Diamond D (Born The Bronx, New York City, NY)
Lord Finesse (Born Robert Hall)
O.C. (Born Omar Credle, 1972 in Brooklyn, New York)
Showbiz (A.K.A. Show) (Born Rodney Lemay)
A.G. (A.K.A. Andre The Giant) (Born Andre Barnes)
Buckwild (Born Anthony Best in The Bronx, New York City, NY)
Albums
D.I.T.C.
D.I.T.C. – Rare & Unreleased
D.I.T.C. – Rare & Unreleased E.P.
Big L – Lifestylez Ov Da Poor & Dangerous
Big L – The Big Picture
Big L – Harlem's Finest: A Freestyle History
Big L – Unreleased
Big L – The Danger Zone
Children Of The Corn – Collector's Edition
Fat Joe – Don Cartagena
Fat Joe – J.O.S.E. (Jealous Ones Still Envy)
Fat Joe – Loyalty
Show & KRS-ONE – Godsville
O.C. – O-Zone Extras E.P.
Terror Squad – The Album
Terror Squad – True Story
Bio
One of the in rap music, D.I.T.C. (an acronym for Diggin' In The Crates) consists of veteran rappers, DJs and producers dedicated to the true essence of rap music: original lyrics and strong beat-savvy productions. With their dedication to hip-hop purity, members Showbiz & AG (Andre the Giant), Diamond D, Lord Finesse, Fat Joe, O.C., Buckwild and the late Big L have at least one classic album under their belts. Although never reaching the success like their multi-platinum peers, individually they're successful by maintaining their intergrity and earning major respect within the rap community.
Lord Finesse (born Robert Hall) is a legendary MC turned producer who has produced tracks for Notorious B.I.G. (1997's Ready To Die (I'm not sure which they mean, but Ready To Die was released in 1994 & Life After Death was released in 1997 – D)) and Dr. Dre (1999's Chronic 2001). As a young cocky MC, he would travel to any borough in New York to battle their best rapper and win. He shopped his demo to various record labels and eventually dropped his 1990 classic Wild Pitch Records debut called Funky Technician. The record had a few tracks produced by his good friend Diamond (formerly Diamond D), a former member of the rap group Ultimate Force. One of the oldest members in the D.I.T.C. crew, Diamond got his first whiff of hip-hop DJing for Jazzy Jay of the Zulu Nation in 1979. In the mid-'80s, he was turntable scratching at late-night park parties, often competing with area top DJs (Showbiz was once his nemesis.) In 1992, this DJ, then a producer, showcased New York City's underground talent and his rap skills on his classic debut Stunts, Blunts & Hip-Hop.
Bronx native Fat Joe became the first Latino rapper in New York to secure a solo deal with a major label with his 1993 debut Representin' (Relativity Records). In 1995, Fat Joe (aka Joey Crack) released Jealous One's Envy and in 1998, released Don Cartagena on a new label, Atlantic Records, which went gold (500,000 copies sold).
Showbiz & AG (Andre the Giant) were the first to adopt the do-it-yourself attitude by releasing their 1992 debut EP Can I Get A Soul Clap practically out of the trunk of their cars. Showbiz, a name he stolen from an old Richard Pryor record, pioneered taking an instrumental and loop voices over it. His partner AG was known as the Bronx's "punchline" rapper. Through the mid-90's he was a prolific producer, producing tracks for primarily underground rap acts. In 1999, AG restarted his rap career with his solo CD Dirty Version (Silva Don). Showbiz meanwhile, launched his production career producing tracks for such artists as Big L, KRS-ONE, Artifacts, Busta Rhymes and Big Pun (R.I.P.). Together, they released more albums than any D.I.T.C. member did with Runaway Slave (Payday) in 1992; GoodFellas: The Medicine (Payday) in 1995 and Full Scale (Fat Beats) in 1998.
Meanwhile, another Bronx native named Buckwild, who once started out as Lord Finesse's apprentice in his production company, started producing tracks around 1994. Since then he has delivered his melodic beats for rap heavyweights like Fat Joe, Notorious B.I.G., Big L, Mic Geronimo and Big Pun. But it was his first up at bat, producing tracks for O.C.'s record Word Life in 1994 that established him as a vital producer in the underground rap scene.
In the mid-'90s, O.C. (an acronym for his real name Omar Credle) was an up-and-coming MC who was introduced to producer Buckwild by Finesse on his rap concert tour. Buckwild was so impressed by O.C.'s "charisma" he produced his demo tape and it found a home at Wild Pitch Records. In 1994, O.C. with tracks produced by Buckwild released his classic debut Word Life. After the album's release he made numerous guest appearances on other D.I.T.C members' records while maintaining a low profile. He released his follow-up Jewelz (Payday Records) in 1997. O.C. is one of hip-hop's most energetic lyricists.
The final member of D.I.T.C. was Big L, a lyrically ferocious MC with raps deadlier than a snakebite and mannerisms cooler than the uptown pimp he claimed to be on records. Calling himself the flamboyant (meaning "rich") MC, he dropped his classic 1994 record Lifestylez Ov Da Poor & Dangerous on Columbia. He was gearing up for a comeback, with a second CD due for release on Rawkus, when he was slain on February 15, 1999. The crew came together later that year for a memorial concert at Trammps in New York (anthologized by a series of CD releases), and recorded a self-titled group record in 2000. — Trent Fitzgerald
Showbiz & A.G.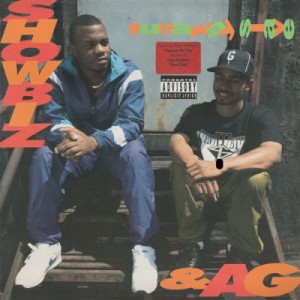 The rebirth of hip-hop's originating borough the Bronx can be credited in part to this two-man crew. While late-'80s/early-'90s hip-hop had gotten to be mostly party-oriented and at times downright corny, this duo brought back some swagger and soul. Show and A.G. were the first out the box from the superb Diggin' in the Crates Crew, an elite team of MCs and producers who can claim much clout and influence on genuine East Coast hip-hop. The spirit of rap's forefathers can be felt in the gritty weight of this duo's pioneering sound.
Learning from their cohort Lord Finesse, the two started an underground buzz by street promoting their demos then selling the tapes out of the trunks of their cars. The street sales helped them polish their debut single "Soul Clap" b/w "Party Groove," a cut that banged dance clubs and got love on Yo! MTV Raps for many a week, a self-titled EP was released in March of 1992. Their debut album, Runaway Slave, followed in the fall and is seen as an early-'90s hip-hop essential. The album brought a bouncing hardcore sound of crisp, jazzy horns, stiff drum kicks, and snapping snares that could get a party hopping but could also satisfy the non-dancing purist nodding his head in the back of the club. The album truly is a D.I.T.C. family affair and introduced such legendary names as the late Big L, Fat Joe, and Diamond D, whose classic debut solo album Stunts, Blunts, and Hip Hop dropped the same week in 1992.
The albatross of making unadulterated rap music is that it sometimes costs a crew acclaim, for Show and A.G. are some of rap's disturbingly underrated. The sequel to their raw, stripped sound came in 1995 with the under-appreciated Goodfellas and the two were major contributors to D.I.T.C.'s eponymous debut album in 2000. – Micheal Di Bella
Diamond D
Veteran hip-hop producer Diamond D has helped out with several of rap music's most acclaimed LPs, including A Tribe Called Quest's The Low End Theory and the Fugees' The Score. In 1992, he recorded his first solo album, the underground classic Stunts, Blunts & Hip-Hop (which was released as by Diamond & the Psychotic Neurotics). Although it never sold very many copies, it increased his status, and he worked with Illegal, House of Pain, KRS-ONE, and the Pharcyde during the mid-'90s. A host of top-flight rappers returned the favor for his sophomore album, Hatred, Passion & Infidelity, including Busta Rhymes, Phife Dawg (A Tribe Called Quest), and Pete Rock. – John Bush
Lord Finesse

Lord Finesse is a Hip hop artist and producer, hailing from The Bronx, New York, best known as the leader of the D.I.T.C. rap crew. In 1989, Finesse and his former partner DJ Mike Smooth signed to Wild Pitch Records, home to other popular Hip Hop artists like Gang Starr, Main Source, Chill Rob G, Percee P, and O.C.. In 1990, the duo released their debut album Funky Technician. The album featured production from future star beat-makers DJ Premier, Diamond D and Showbiz. Soon after, Finesse became the leader of the popular New York underground crew D.I.T.C., an acronym for 'Diggin In The Crates'. Future members included Showbiz and A.G., Diamond D, Fat Joe, O.C., Buckwild and the late Big L.
Finesse returned as a solo artist in late 1991 with his second effort, Return of the Funky Man. The album featured guest appearances from Percee P and AG. The album's title track peaked at #13 on the Hot Rap Singles chart. In 1994, Finesse made a production appearance on The Notorious B.I.G.'s classic debut Ready To Die, on the track "Suicidal Thoughts". In 1995, he produced a portion of Big L's debut album Lifestylez Ov Da Poor & Dangerous, including the single '"M.V.P.". He finally returned as an artist in 1996 with the now rare 12″ single "Check The Method" and then the acclaimed album The Awakening. Finesse produced the entire album himself, and enlisted a large number of guests, including O.C., KRS-One, MC Lyte, Akinyele, Showbiz and A.G., Diamond D, and Kid Capri. The underground single "Actual Facts", featuring Sadat X, Grand Puba and Large Professor, was included as a hidden track on the album.
Finesse hasn't released a studio album since this effort, but has continued his production work. In 1997, he produced the title track to O.C.'s acclaimed effort Jewelz. Finesse released a mixtape called Diggin' On Blue in 1999. Later in the year, he produced the track "The Message" on Dr. Dre's seminal 2001 album. Finesse is currently working on a Funky Technician remix project, as well as a new D.I.T.C. album. Along with these projects, he and DJ Premier are working on a posthumous Big L album.
In 1998, Finesse provided the vocal sample on the hook to "The Rockafeller Skank", a hit single by British musician Fatboy Slim from his album You've Come a Long Way, Baby. The song features Finesse's repeated line "Right about now, the funk soul brother. Check it out now, the funk soul brother".
Lord Finesse returned to the mic on Handsome Boy Modeling School's album "White People" in 2004. He was featured on the song entitled "Rock 'N' Roll (Could Never Hip-Hop Like This) pt. 2, collaborating with famous old-school DJ's as QBERT, Grand Wizard Theodore and Jazzy Jay. Chester Bennington & Mike Shinoda from Linkin Park make appearances as well as Rahzel of The Roots.
O.C.
An early friend and collaborator with the boys from Organized Konfusion, O.C. appeared on the video for the duo's 1991 single "Fudge Pudge" and gained a record deal for his smooth, intelligent raps. Born in Brooklyn in 1973, Omar Credle moved to Queens when he was 11, moving into a house across the street from Pharoahe Monch. When Monch formed Organized Konfusion with Prince Poetry, O.C. kept in contact with the group and contributed a rap to "Fudge Pudge" from their self-titled debut. By 1994, O.C. had a deal of his own, though Wild Pitch Records had little money to promote his album debut, Word…Life. He refused to record again for the label and was dropped. He appeared on Organized Konfusion's second LP, Stress: The Extinction Agenda, and the Crooklyn soundtrack, but it was almost two years before O.C. was signed again, this time by the much more viable Payday Records (a subsidiary of PolyGram/EMI). O.C.'s second album, Jewelz, was released in August 1997. Bon Appetit appeared four years later. – John Bush
Sources: AllMusic.Com, Wiki P and stuff.