Sample This (Incredible Bongo Band)
Sample This – The Story Of The Incredible Bongo Band
"The Gunshots That Rang Out In The Summer Of 1968 Started A musical Revolution."
A documentary looks at the impact and the story behind one of the most important records to Hip Hop throughout the decades.
Film director Dan Forrer is underway on a documentary spotlighting The Incredible Bongo Band and their record "Apache." The film, Sample This, has a trailer released. The 1973 record from the Bongo Rock album, has become one of the most widely used samples in Hip Hop and other genres. In addition to its reworking on songs like Nas' "Made You Look," Young MC's "Know How," and The Roots' "Thought @ Work," the record was famously covered and reinterpreted by The Sugarhill Gang.
The Birth of Hiphop x a Kennedy Assassination x The Most Sampled Record in Hiphop x Charles Manson x Canada x A Mafioso x A Beatle = The Incredible Story of The Incredible Bongo Band
Description
On the streets of the Bronx in the summer of 1973, DJ Herc took the percussion breaks from an obscure album and extended them by playing them back to back. The song he used: "Apache" is considered the national anthem of hip hop and is one of the most sampled tracks in the history of the genre used by artists from Will Smith to Missy Elliott to Amy
Winehouse to Nas, Kanye West and Jay-Z.
Where did this come music from? If not for the assassination of Robert F. Kennedy it might never have happened, the gunshots that rang out in the Ambassador Hotel kitchen in June of 1968 started a musical revolution—
"Sample This" is the true story of how an unknown music producer and the greatest studio musicians of the 70's entwined to create of one of the most influential albums in history. It's the story of a band that never was, a cult movie and revolutionary music from the streets of New York. A pop culture odyssey that includes Charles Manson, a former Beatle and an infamous mobster."Sample This" tells contemporary rap fans where their music comes from and how seemingly unrelated people and apparently random events set the stage for greatness. It is powerful, tantalizing, informative and above all, emotionally riveting.
The film is narrated by music icon Gene Simmons and directed by Dan Forrer.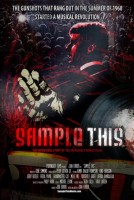 WORLD PREMIERE:
Austin Film Festival
Sunday, October 21, 2012 at 9pm
at the
Alamo Drafthouse Cinema
320 E. 6th St. Austin, TX
Also check out the peice on King Errisson at
LargeUp.com
for a great insight into the man who played bongos "Apache" (prob my all time fave breakbeat).
hipology